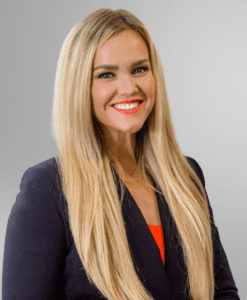 Natalie Hill became TSN Communication's new chief executive officer in June 2022. It's a role that builds on her 13-year career working in communications and eight years at TSN Communications, working across all client accounts and within a variety of industries.
As a virtual marketing and public relations agency, TSN Communications has a 25-year legacy of developing and executing communications plans that meet clients' needs and budgets. Natalie is eager to build upon its history, leveraging a unique perspective she's gathered from her time at the agency.
Whether you've worked with Natalie over the last eight years or you are just now meeting her, we want to share five things you should know about our new leader.
Natalie is a relationship builder. Loyalty is her key strength, bringing authentic curiosity to every interaction. From clients to team members, she's eager to listen, learn and understand what drives people and what their goals are. Additionally, she always makes time for a phone call and is a reliable point of contact for everyone in her life.
Natalie is a strong advocate for the organization. Everything has a place … in Basecamp. Eight years ago, Natalie transitioned TSN Communications to this online project management system. Basecamp is now an invaluable company tool to complete work for clients. Need a document from five years ago? No problem — we have it in our system! The organization and processes Natalie established streamline communication and allow team members and clients to easily access all project documents and communications in one place.
Natalie is a planner. Each time Natalie wanted to do something when she was younger, her dad told her to create a plan. From attending her dad's rival university to studying abroad in Argentina, she learned the importance of setting goals and establishing a clear pathway to get to where she wanted to go. Not much has changed in 2022. Natalie is excited for the future of TSN Communications and overseeing new clients, partnerships and service offerings.
Natalie takes charge as chaos coordinator. She has four children, ages one to seven — and they always keep her on her toes! From the nonstop snack and beverage requests, clean-ups, tattling and questions, they have made her immune to chaos and overstimulating environments. This immunity has proven her to be an expert project coordinator — making sure TSN Communications clients and team members always have what they need to feel prepared and supported for success.
Natalie isn't afraid to try new things. Neither a dancer nor a martial artist, Natalie frequents Zumba and kickboxing classes each week. While she may have two left feet, her enthusiasm to stick with it is strong! Natalie enjoys staying active and being challenged by new activities. She recently learned how to ski with her kids. When she's not trying to keep up with fast-moving salsa beats, you can find her walking and listening to professional development podcasts or brainstorming new business strategies.
Congratulations, Natalie!
Check out the press release announcing Natalie as CEO.