While crisis communication plans have been around for decades, the proper way to communicate during a world-wide crisis is uncharted territory. Even so, there are some guidelines and tips to follow when altering your social media presence right now.
With news about this pandemic making daily headlines, social media planning could seem like a frivolous topic. But it's important to remember that sharing accurate and sensitive content can buoy a company's value and reputation. Ignoring this type of event and proceeding with previously developed social content could harm customers' perception of your organization or company.
The Right Tone
As you think about social media content in the current situation, let flexibility and empathy guide you.
We've all learned to be more flexible in the past weeks. Major disruptions to work and family life have required us to readjust our expectations. Take this ability to pivot as needed into your social media marketing. Plans, procedures and policies are shifting rapidly. If your organization has been sidelined, when will it re-open? Have your hours or services changed? How are upcoming events your organization typically hosts affected? The answers to these questions today may be different tomorrow. Be informative and transparent in your social media posts. Your followers will understand if there is inconsistency in information over time as conditions shift.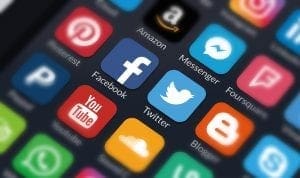 We are all dealing with some level of fear, doubt, disappointment or concern. Think about where your followers are emotionally before posting anything on social media. Review content you may have planned weeks ago and ask yourself if it's still relevant. Post only content that addresses your constituents' needs right now.
Social media is a great way to keep people informed up to the minute. Who is your audience? What might they be wondering about or needing information on? As the country emerges from lockdown restraints, what resources can you offer? Do you have experts within your community who could regularly post on your social media channels?
Not every post needs to mention coronavirus: People are still looking for other information you can provide. One light in this dark place is that more people are spending time on social media who haven't paid much attention before. It's a good time for you to introduce your organization's mission to potential new followers.
Don't Just Talk: Listen
You should always read and respond to comments on your social media posts. Now is a good time to pay extra attention to what you're hearing. Comments might point to the need for a new product or service or help you gain even more empathy for your audience.
Some businesses or organizations might be swamped with social media input. Has this situation uncovered your company's need for a social media chatbot to answer common questions?
Keep in mind that you don't have to post in response to every new development involving the pandemic. Sometimes restraint is the best path. Remember to stay in your organization's lane to guide your social media actions.