Did you know 56 percent of companies around the world are fully remote or allow some type of remote work? It's true, according to OWLLabs, and TSN Communications is one of those companies. Our team members are located in cities across the country from Washington DC to Phoenix. While remote work may seem like a trend to some, we think it's a practice here to stay.
TSN's president and CEO Greg Zilberfarb created the company more than two decades ago while he was a stay-at-home dad. "When TSN started to grow, I reached out to trusted colleagues/friends that were also working from home for various reasons," said Zilberfarb. "Working with a flexible schedule allows you to do things that refresh you for client work. It also allows everyone to be the CEO of their lives."
For TSN, the biggest benefit to being a remote company is clients aren't billed for "water cooler" talk. They are only billed for the time worked on a project. The benefit for employees is they have control over their time. Some employees may work earlier mornings, while others work during a child's nap time. Remote work allows them to integrate their work and personal lives, as well as improve their personal relationships.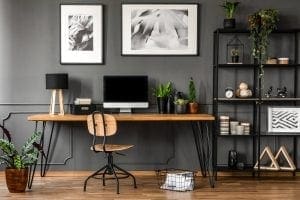 Recent studies conducted on the state of remote work prove there are other benefits to working from home:
It's important to note that working remote may have its drawbacks. According to Buffer, some remote workers may struggle with unplugging from their work, loneliness and communicating.
"Being a remote company only works if you hire people that can manage themselves," added Zilberfarb. "A good hire values their time and makes the most out of every minute. If you can't manage your time, you can't work remotely."
For companies that would like to add a remote work policy, Smartsheet outlines the best method for building a remote workforce, including determining which jobs are right for telecommuting, what to include in a remote work policy, and how to implement it.
The TSN Team put together some advice for employees who work remotely. You can see it here.