A question we often hear from small business owners is, "Which social media platform is right for me?" It's a great question for those trying to determine where they should spend their time on social media marketing efforts. To get the answer, we need to dig a little deeper. But, more on that later. First, it never hurts to cover your bases with one or more of the biggest social media platforms.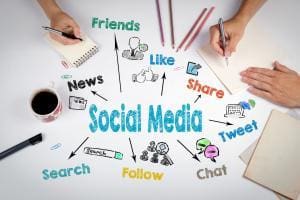 Facebook still dominates in the world of social media. The company reports 2.27 billion monthly active users. With 68 percent of U.S. adults on Facebook, most businesses and organizations will find their audience on Facebook. The social network is also used by all age ranges and leans toward a female base with 54 percent women and 46 percent men.
Thirty-five percent of U.S. adults use Instagram, and 500 million people use the photo-sharing app daily. Instagram's audience is generally much younger than Facebook, with 72 percent of 13- to 17-year-olds and 64 percent of 18- to 29-year-olds using the app.
Twitter has become a popular platform that brands and customers use for customer service or support. It also has a younger base with 32 percent of 13- to 17-year-olds and 40 percent of 18- to 29-year-olds using the micro-blogging platform.
According to Sprout Social, "LinkedIn is the number one platform when it comes to B2B social media marketing" and it has more than 590 million registered users.
If you want to see a more detailed breakdown of social media demographics, check out this article from Sprout Social.
So, which of these platforms is best for you and your business? Answer these three questions:
Who are you trying to reach?
Where is your audience now?
What do you want to post?
Who are you trying to reach?
Think about the audience you want to notice your business. Is it another business or an industry, or a group of people? Where do they live? How old are they? Are they mostly women or men? Honing in on who you are targeting will provide direction as to which social media platform will offer better results.
If you are a creative and want to reach women, Instagram and Pinterest should be on the top of your list. If you're an association and aim to reach members and get your message out to the public, your top platforms are likely Facebook, LinkedIn and Twitter.
Where is your audience now?
In order to grow your following and get more attention for your brand, you need to serve the audience you have now. The best way to do that is reaching out to them on social media. If your audience is on Instagram, you need to be posting behind-the-scenes moments to Instagram Stories. If they're on LinkedIn, you need to endorse colleagues and share articles that are important to your audience.
One way can find out more about your audience and the social media platforms they use is through market research. TSN has market research capabilities in house and recently explained the benefits. We can help you determine who your audiences are, what they know about you, and where they get their information.
What do you want to post?
The content you want to post may indicate which platforms are right for you. What is the message you are trying to get out? How can you incorporate a photo or graphic? If you're a real estate agent who wants to show off a new listing, Facebook and Instagram are the top visual mediums where you can show off photos and videos. If you are a large company looking to hire, LinkedIn will be the leading asset for a job posting. If you are a small business trying to make connections with other small businesses, Twitter can help connect you to them.
The bottom line is it takes time to determine which platforms are best for each business and, for some, there is a trial and error period before growth is seen. With the help of a reputable social media management system, TSN can lessen your learning curve and help you determine the best ways to grow your business.