When it comes to marketing, there tends to be a lot of half-truths, hype and sales jargon.
Which doesn't tend to inspire confidence.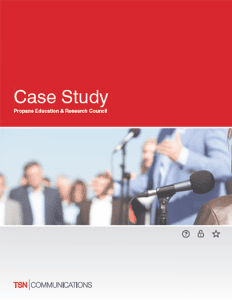 Enter a case study. A case study is a research method about a particular "case." It provides in-depth details on a strategy, laying out a particular problem, a chosen solution to the problem and the results.
The reason case studies are so effective is because rather than opinions, they get to the facts. Statistical data based on research.
You can use a case study to highlight a problem that your target audience has, followed by how your organization's product or service provided a solution to that problem. The case study lays out who, what and when, and then gets to the all-important how and why by highlighting real customers' experiences with real-world examples. Your prospective customers will value this type of data because it comes from their peers. And since it's fact-based, it can be newsworthy to media outlets.
TSN has developed dozens of case studies for clients and secured their placements across all types of media. We've also created ones about our own clients.
Want to learn more about creating case studies? Contact us; we'll help you get started.