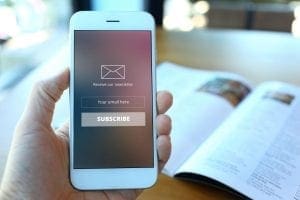 It's the old chicken and the egg. You need more customers, but prospects can't know about all the great things you're doing unless you can communicate with them. And you can't communicate with them unless you have their contact information, which you may not get until they become your customer.
So how DO you capture that contact info of prospects?
You're likely already asking them to follow you on Facebook and other social media platforms, such as Pinterest or Twitter. Maybe you've already created a form on your website to capture their email address, or had them sign up at a fair or trade show.
Research shows capturing contact info on paper is still one of the most effective strategies. According to online email marketing portal Constant Contact, "using a paper sign-up sheet is one of the simplest ways to grow your email list. And it's also one of the most effective." The company adds that the method is especially true for retail or brick and mortar locations, who have face-to-face interaction with their customers.
You can also capture contact information during the registration process (for a membership sign-up or an event), or when a customer buys something on your website through e-commerce.
What's in it for them?
You should let prospective customers or clients know what they will receive by signing over their email address. You may choose to offer incentives by entering them into a drawing for a free item, or give away a free service from your company.
Another idea is to include putting a link to sign up for your newsletter in your email signature. Also, don't forget about your family and friends. They will often be all too delighted to receive your up-and-coming business's communication.
Think of all your touchpoints
A few other creative ideas:
Provide a lead magnet or an incentive, such as something they can download from you for free, in exchange for their email address.
Use text-to-join.
Send postcards.
Collect email addresses through the WiFi you provide guests.
Publish Facebook ads targeting specific interests/locations.
Sometimes, you don't have to sweeten the pot for people to sign up. They may already have an interest or need in your product or service. Some people have signed up on their favorite local beverage's email list just to find out about future distribution.
And don't forget, secure those addresses legally. You can buy email lists, but if a company sells you an actual data file you can save (versus an online portal), be wary, as that's not legal. Furthermore, a friend just giving you his or her list skirts the law AND may annoy non-interested recipients. Typically, if it's not transparent to the recipient or you are not purchasing from a reputable seller, it's not legal.