As most people are adapting to fewer or no in-person meetings and conferences, now may be an optimal time to reach your target audience through a virtual event beyond the typical Zoom call.
For any events on your organization's calendar, consider if any can be hosted virtually as a webinar. You may be a participant in a trade show, or you may be the organization hosting one. Either way, remember to have an honest conversation with all groups involved and stick to a timeline for making decisions.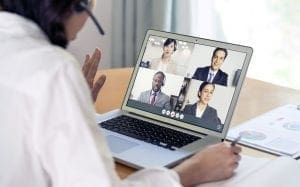 Before you spring too quickly into event planning mode, ask yourself: Is making my event virtual the right thing to do for my organization and my audience? The answer will be different from business to business and industry to industry. You should also consider how many events are usually a part of your annual marketing strategy, what your audience sentiment is, and what personal connection looks like for your brand at this time.
If you do move forward with hosting a virtual event, think about why you hold events in person and how you can recreate them in a video-conference setting. It will take time and coordination to transition from in-person to virtual. But there are advantages, including cost and safety. Additionally, more people may be able to attend your virtual event since in-person events are limited to travel, specific locations and schedules.
Just as you would with planning an onsite event, consider the following areas in a virtual setting:
Date and time.
Speakers/presenters.
Agenda.
Email promotion.
Media coverage.
Depending on who your target audience is, your virtual event may range from casual to formal, one hour to an all-day affair, free or fee included. Before you implement a fee for attending your virtual event, consider whether this is an event where you would normally charge attendees in person. And if you are going to charge, make sure the subject matter and content shared are high quality, unique and relevant.