These simple tips will thank clients for choosing you in 2013 so that they'll stick with you in the new year (and maybe years to come).
Tip #2 – Offer a discount for savings during the holiday season.
Who doesn't love a bargain, especially during the holiday season? Offering a discount on one of your most popular items or services may be the perfect way to save your clients wallet and even boost your sales. With so much spending going on during the holidays, clients will be thankful for the price break.
Advertise your holiday offer to your valued clients. Inform them that your appreciation for their business is the reason for the budgetary break.
Tip #3 – Send your clients a card to show traditional holiday sentiment.
The holidays are a time to let clients know that they're thought of and appreciated. While you might not have the budget to buy gifts for each of your clients, a thoughtful or creative card, either in print or online, can be the perfect way to show client appreciation.
Personalize your card by including a picture of the office, tidbits about your staff, fun facts about your company, or signatures from employees.
Check out our holiday card created by TSN's  award-winning designer, Carey Donelly. Carey worked her creative magic to develop a greeting card that gives an overview of what our team's been up to.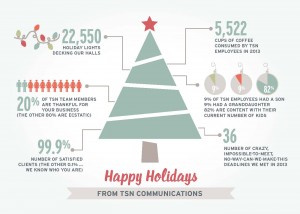 So go do what you do, only better than before. Or just call us. We'll help you get started!