Restaurants across the nation have had to figure out how to keep their doors open. Some have closed permanently or maybe only temporarily, others have added delivery or curbside pick-up. Yet, how do these businesses let their customers know? Like these restaurateurs, many folks have had to take a crash course in marketing and communications to keep in touch with their clients and members — their target audiences — to simply let them know if they are open.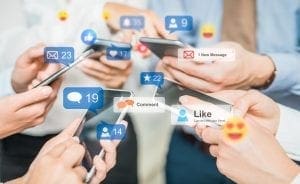 How can you strengthen your relationship with your audience during the present pandemic? Here are three tips to help you adjust your strategy and keep the information flowing.
Use social media.
This is the quickest form of communications to let your audience know what you are doing and how you are operating. For the restaurant example, posts with current hours of operation can be updated accordingly. Have a special family meal to sell? Post it on social. Another example could be for associations to post about meetings that will now be held virtually or about new dates for conferences that have been postponed until the fall. Social media outlets make mass communications easy.
Develop an email campaign.
If you have gathered a list of audience emails, whether through memberships, online or even the fishbowl at the front of your store, you can create an email campaign. Here, you'll want to gather all of the pertinent news you want to share in either one comprehensive email or a series of emails. This email can include all the information you've shared in spurts on social media, along with more detail and/or photos. It can also introduce new information, but make sure that those messages are timely and relevant to your audience. During this time, share what your association or company is doing to help, like sponsoring a local food pantry or using your facility to make hand sanitizer. Or maybe it's to outline how you're following CDC recommendations to ensure your customers and your employees are safe. These emails will better target folks you know have a vested interest in your organization.
Write a blog.
A blog post or posts can keep your audience up to date on your organization. Let them know how you are handling shut-downs or new restrictions. And, it's also nice to find out how your readers are doing. Address your customers or members and ask. What do you need from us right now? If you aren't able to directly help, maybe offer up an alternative solution. Most blog readers are very interested in a certain company or topic, so you can get personal here, knowing that this is a more concentrated portion of your audience.
Information changes daily, and keeping up is becoming even more essential. Use these three tips to help you stay on top of communicating and connecting with your audience to maintain a strong relationship.