Gone are the days when social media was simply posting photos and adding businesses to Facebook. Now, each move you make on Facebook, Instagram, Twitter and LinkedIn needs to be planned, executed and measured. Part of your public relations strategy should be effective social media campaigns that reach your audience and get your brand noticed. Below, we outline components of a successful social media campaign.
Set Goals
Before you execute your strategy, determine what your goals are. Your goals should be specific, important to your business and attainable. If you don't know where to begin with goals, review available analytics and conduct an audit on your accounts. Identify an area you'd like to improve on and start there. Aim to have just a few goals per social media platform so you don't get overwhelmed.
Competitor research
Determining the performance of your competitors gives you a clearer understanding of where your brand stands in a market or industry. If you have competitors, we recommend regularly monitoring their performance and taking note of how their followers are engaging with the content being published. Use this research to give you additional information, not a template of posts to copy. Sprout Social offers great advice on competitor research, "Though you should be careful about getting too caught up in comparing yourself to others, a social media analysis of the competition can give you valuable insights into what works in your industry, some areas you might need to improve and much more."
Target Audience Research
As we've mentioned in a previous blog post, market research can be crucial when establishing or evaluating your marketing and public relations plan. It can tell you who your target audience is, what they know about your business / industry, and where they get their information. Additional questions to ask:
What is their favorite social media site?
Do they regularly read blogs?
Who do they follow on social media?
If you can determine other accounts that influence your audience, you can make connections with those accounts through tags, hashtags or engaging in real time.
Content Calendar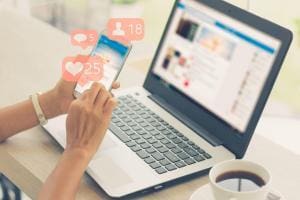 Plan ahead. Creating a calendar and scheduling posts ahead of time ensures consistency with a campaign, while also maximizing engagement and reach. It also saves you time so you don't have to scramble to find quality content each day. To ensure followers are getting a good mix of content, we suggest dedicating a specific topic or theme for each different calendar day you plan to post. And scheduling posts doesn't mean you can't share content, publish company news or make post campaign updates. Consider this bonus content! While scheduling out content ensures consistency, it's important to also be timely and relevant.
Visuals
With hundreds of thousands to millions of posts published on social media sites each day, you have to make your content stand out. And photos, video and graphics are no longer recommended; they are essential to successful social media campaigns. A study by OKDork and BuzzSumo found that posts with an image on Facebook more than tripled the shares of that post and Twitter shares more than doubled. That same study also found that people on social media love to share lists and infographics.
Monitor and Engage
Once your campaign is launched, you'll want to dedicate time each day or week to monitor results and activity. It's important to respond to all comments and post shares as soon as possible. Your audience wants to see that you interact with them and know that you will answer questions and respond to feedback.
Analyze and Adjust
Because analytics and metrics will help you determine if you're meeting your goals, it's important to conduct regular reporting. When looking at your results, identify trends. What days / times do people tend to engage with published content? Which posts received the highest engagement? Depending on your goals, you may need to look at follower count, engagement, reach or impressions. These analytics will give you results and measure your brand's performance so you can adjust your strategy.
This list may be a lot of steps for some people, but, remember, you have to do a lot more nowadays to get your content noticed and social media is a crucial part of your marketing and public relations plan. Hopefully, this list will help you achieve your goals and reach your audience in an effective manner.