(And … are they all necessary?)
The necessity of virtual meetings now has given us … well, more virtual meetings. But not all are created equal. We join meetings, and at
times we may host and/or lead them. Both sides of the metaphorical camera may leave you with opportunities on how to stand out in your hosting, and to how best to represent yourself as a guest, as well.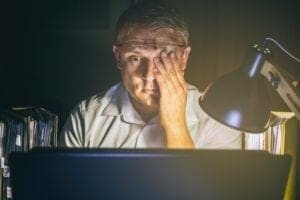 Even though professional football may or may not take the field this fall, don't fumble while hosting your meeting. Try to make the audio and/or video conference the easiest for attendees to schedule, get on and have options on engagement. Not only can you stand out with your attendees' ease, if you hire a company, such as TSN Communications, to host, you can accomplish even more. You can focus on your message, not on distractions or IT glitches as you present. You can take measurement of engagement levels, host break-out sessions, and record it for later on-demand viewing or re-use in marketing.
Screen Time
Whether a company is helping you, or you're going it alone, don't scrimp on your slides or PowerPoint. You'll want some graphic elements to keep the attendees' attention and, better yet, photos or easy-to-understand charts. Give them a somewhat cleaner space at which to look, without too many words per page. You don't want to distract from the speaker by having paragraphs they feel compelled to read. Smaller blurbs should only highlight or complement the speaker's message.
Another way for us all to be more engaged and accountable during virtual meetings is by having video meetings and showing the face of the speaker, if not of the attendees.  Also, be sure to introduce the speakers and their topic, and set the length of the meeting as well as an agenda.
BREAK!
Be sure to provide breaks throughout the day if it's an all-day or multiple-day event. Many say that a break every hour or hour and a half helps battle distraction the best. Not only that, if you are on many virtual meetings, we'll discuss later how to combat "Zoom burnout" with a long-term plan on breaks.
Great, now that the break is over, here are some more tips: Incorporating questions and polls throughout the event also engages the audience. You can let attendees ask questions in numerous ways, and you can ask questions of the audience, as well. TSN can assist with other forms of engagement, such as dynamic footnotes, quizzes and an online branded collection of presentation materials.
You Built It, But Will They Come?

Organizers should market their events early and often; now is the time to capture a lot of attendees who were too busy before most of us were working from home and doing these virtually. Make sure you have attendance goals and a strategy on how to meet those goals. If you invest in a company managing your event, you can focus on the content of the presentations, not the advertising.
How to Be Present

We're all on webinar-type calls these days (even kids are); practically no profession or organization can escape them. Here are a few tips on how to get the most out of being an attendee.
If you start to dread online meetings, that may be a sign you're in too many of them. If your meeting schedule is very heavy, try to schedule at least a couple of hours sans-meeting daily. Many say that video meetings (or being tied to the computer in general, without so much as a walk to a conference room) are more draining than in-person meetings.
According to BusinessNewsDaily.com, more than 300 million people use Zoom daily now, marking a significant increase in the number of meetings held online every day. It says, along with the normal stressors of a work meeting, experts suggest that constant exposure to online meetings can affect mental health and stress levels.
Daron Robertson, CEO of BroadPath, said while video conferencing is a helpful tool, it's not always helpful in facilitating effective communication. "Video fails to accurately recreate the in-person experience," he said. "With no direct eye contact, your brain is working overtime to interpret others. 'Are they listening to me or reading email?' You never know because the eyes are looking away in both scenarios."
BusinessNewsDaily.com adds not to forget that some things can still most efficiently be accomplished by the traditional – yet still relatively modern,-modes such as email and phone. Doing so may make your more important meetings that much more impactful when done virtually.
Don't always force video interaction. At times, giving employees or peers a break from being on-camera — though still on the call — can help ease their pressure. Lastly, according to the article, understand that life can get in the way.  Due to the pandemic, your workers are likely juggling work and childcare. "If you hear kids in the background, don't get embarrassed or annoyed; rather, lean into it," Robertson said. "Use it as an opportunity to get to know each other better."
Please email us at virtual@tsncommunications.com if we can be of assistance in managing and marketing your valuable, virtual meetings for you.