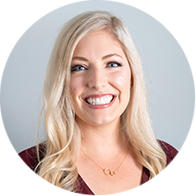 Adrianna joined TSN Communications in 2018. With more than 14 years of journalism, marketing and public relations experience, she specializes in strategy, client management, content creation and social media.
A broadcast journalist and news producer for 10 years, Adrianna created content for millions of consumers across the country. She worked for multiple television stations, including WUSA in Washington, D.C. and KPNX in Phoenix.
Adrianna earned a bachelor's degree in journalism, with a minor in political science from the University of Missouri. When she's not experimenting with new recipes in her kitchen, Adrianna can be found exploring her home state of Arizona, training at the gym or listening to podcasts that feed her mind and soul.