When we started TSN Communications back in 1997, the Internet was a deep, dark mysterious place. You had to know how to program your website using HTML and most websites were static pages. Only a lucky few small businesses had websites and most didn't actually sell over the web.
Today, the Internet is a wonderful place where you can find and buy just about anything. But for some small businesses, it's still deep, dark and mysterious. According to a recent Inc. online article, 55 percent of small businesses don't have a website. Fifty-five percent!
According to the U.S. Small Business Administration, there are 10 steps to setting up an online business, with the first five being:
Start a business
Register a domain name
Select a web host
Design your website
Begin advertising and marketing
Steps 6-10 involve licensing, but the first five are what are needed to actually get online. Now, we've started My CloudHosts, a complete online solution for making that process a whole lot easier. You still need to handle Step One on your own, but My CloudHosts will register your domain name, design and build your website, maintain it, update it and keep it secure for one low monthly price.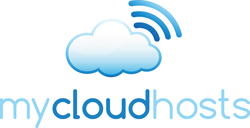 Think of the possibilities for your small business if it's that seamless to get online. The Internet will no longer be deep, dark and mysterious – instead, it will become a huge sales and marketing asset.
Ready to get started? So are we! Act now and we'll take 10 percent off your first year if you sign up using the promo code: getyourcloudon