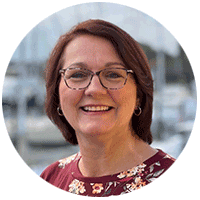 Tracy joined TSN Communications in 2010. With almost 30 years of combined journalism and public relations experience, she brings a dynamic approach to every project. During her career, Tracy has written case studies, press releases, newsletters, feature and bylined articles, website content and more. She's a chameleon when it come to writing and can adapt to write about any client's industry.
Prior to TSN Communications, Tracy was an editor for Home Buyer Publications — where she discovered her love of writing and editing. As the managing editor of Log Home Living, she assigned, managed and edited hundreds of articles for the monthly consumer magazine. As the editor of Timber Frame Homes, she developed the content, tone and overall look of this quarterly consumer magazine, along with editing and writing articles.
Tracy earned her bachelor's degree in communications media from Indiana University of Pennsylvania — yes, Pennsylvania! She lives in Northern Virginia with her husband, Ed, and three boys, who have made her into a true sports mom.